Features:
【Big Breasts, Round Peach Hips】Perfect female figure, total length 21.26 inches, 3D large breasts (22.83 inches), large hips (23.19 inches), and the thin waist that millions of girls dream of. The height is 20.86inch. Pink nipples, like an 18-year-old girl, arouse your deep desire. Let go!
【3-in-1 Stimulating Sex Experience】A sex doll can meet your three needs – breast sex, vaginal sex anal sex. Designed according to real female's pussy and anus, it is really realistic and inviting. In particular, there are threads and particles in the vagina and anus, which will constantly tease and massage your cock. Mimics the sensation of intercourse, slide inside and let her squeeze and please you with every thrust!
【Twist Poses At Will】The built-in skeleton can change a variety of postures, such as: left lift, lying down, back entry. Use materials close to your body to make your sexual experience more real. When you choose to use the vagina or anus, you can also touch her big chest and reach an orgasm directly
【Pre Purchase Instructions】1. Please note that this torso doll is NOT A LIFE SIZE sex doll. But it's a perfect size for easy handled. 2. Underwear not included; When choosing bra, it is recommended to buy it according to the measurement data of the product size chart. 3. Recommended use with water-based lubricant for better experience. 4. when the sex doll is not used, please keep her legs together to avoid damage to the joint skin
【Discreet Packaging】 We value the privacy of our clients. So a special sealed box has been set out for the purpose of delivery, they are shipped expressly and confidentially without any trace of sensitive tags/words
Basic Information:
Color: Natural
Material: TPE
total length: 11.85*8.66*5.32inch
Product Weight: 18 lbs
Package Include
1 x Love Doll Torso
PLEASE NOTE: when you receive the product, you will find some powder on it. This is the talcum powder used in the production process to keep the product dry. This is not a dirt or quality problem!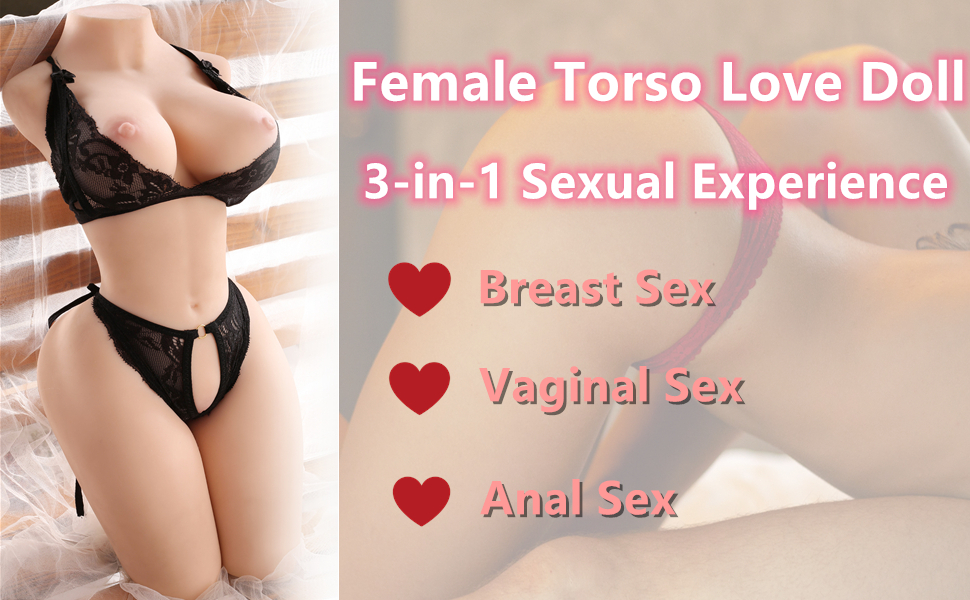 Easy to Use and Clean
Recommended use with water-based lubricant for better using experience

Please wash it with fresh water and some soap would be better, use a soft cloth to wipe it dry with care and then let it air-dry

After drying, gently dusting corn-starch on the surface to prevent the skin from becoming sticky